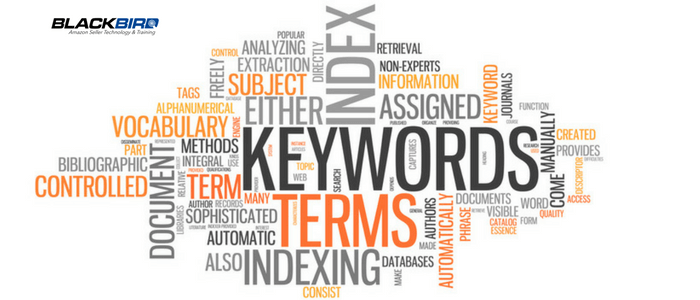 In this article, we'll explain what Amazon keyword phrases are, and share with you the different strategies we use to help you identify the most powerful and highest searched keywords for your product.
So let's get started…
What Are Keyword Phrases?
Keyword phrases are the search terms people will use to find your products on Amazon.
These are typically phrases that you're going to want to target and try to rank for.
How Can Keyword Phrases Be Used?
Keyword phrases can be used in a couple of different ways such as:
Behind the scenes in your product setup area and;
In your listing (in the title, bullets, description, etc.)
Identifying The Best Keyword Phrases
So the first thing you will need to do is identify the best keyword phrases for your product such as:
Keywords that are going to result in traffic and;
Keywords that are going to result in sales
There are a few different ways in which you can do this, lets look at them here…
Option 1: Competitor Analysis
By using competitor analysis, you can make educated guesses as to what the best competitors are focusing on.
This is a great way to find keyword phrases, what you can do is open lots of different competitors on Amazon, and see what they're doing.
You want to look for listings that are selling well, as these competitors are are more likely to have optimized their listings well.
In the example below on grill brushes, in the titles, you can pick out what are likely to be the most optimized keyword phrases.
We can see:
18″ Best BBQ Grill Brush
Barbecue Grill Brush
Stainless Steel
Copy and paste these keyword phrases into a word document, and continue to do this for different listings.
As you can see by moving onto different listings, you can harvest different keyword phrases for virtually the same product:
In this case you can see:
Grill Accessories
Cleaning Tools
Continue to harvest these keywords as you go through your competitors listings…
It pays to have your main target keyword right at the start of the title, that will give it a little bit more weight when Amazon is analyzing the title.
TIP: When looking for competitors, ignore the sponsored ads, and just look at the organic top rankings
Option 2: Using BlackBird's Keyword Tool
With BlackBird you can drill down to identify keywords, and check search volume.
BlackBird's Keyword Finder will help you find keywords to help you better optimise your product pages.
Track anything from 500 to unlimited keywords with the keyword finder.
Simply start with your seed keyword and Blackbird will return a whole bunch of keywords by referencing not only Amazon but Google as well.
Use Keyword Finder to keep refining and building your keyword list.
By doing this you'll find every combination of keywords typed into Amazon.
These keywords will be saved into a project, and you can also export them for your records.
Check out BlackBird from the following link: https://www.blackbirdsuite.com/
Start Building Your Listing
Once you have a few target keyword phrases listed, use a word document (or Google doc if you prefer), and slowly start building your listing.
Another great tip that we can share with you is Amazon have got a suggestive search tool, so if you enter in your keywords, you'll see a dropdown of other keywords you may never have even thought of!
In this example, we've typed in 'bbq grill', Amazon then suggests other keywords that you can use 🙂
You can literally run this search by typing in 'bbq grill a' and see what terms come up, then 'bbq grill b', 'bbq grill c' etc., until you've gone through the alphabet.
These are different keywords that are being searched for more often in Amazon.
You can keep doing this until you find all the keywords that are relevant to your product 🙂
Further Reading
In the following article 'The Amazon Listing Essentials You Need To Know', we'll introduce the 6 key building blocks of any Amazon listing, and how you can use them to ensure your product gets off to a flying start.
Formatting your product page is easy to do and is an important touch to ensure you do everything within your control to make sure your listing stands out.
In the following article; 'Formatting Your Amazon Product Page To Stand Out From The Crowd', you'll learn how to format your product description area professionally.
Our Thoughts
In this article we've explained what keyword phrases are, and shared the different strategies we use to help you identify the most powerful and highest searched keywords for your product.
Hopefully that will help you get started and making a list of the main keywords that you want to be targeting.
BlackBird = Our SECRET Weapon
BlackBird is the ultimate tool for tracking your key metrics, and providing you with cutting edge Amazon seller training.
BlackBird gives you the ability to easily:
Track your products, sales, reviews, pricing, and ranking
Search the Amazon marketplace for the best new opportunities
Analyze monthly earning of ANY product on Amazon
Spy on your competition
Analyze on-page performance metrics
Alert you to problems related to your products
Send emails to your customers (to generates reviews and more sales)
Learn ALL the secrets to selling on Amazon (via 71 training videos)
To ask Steve, me, Matt Carter (partner), and our team of 'Gurus' ANY Amazon selling related question ANY TIME you want to using our unique 'Grab A Guru' strategic support system
If you want to learn more about how Blackbird can help you be sure to register for our FREE Training Webinars below: If you are serious about progressing an FBA Business then these are a must attend!
1. FREE Training Webinar for "Newbies " Reveals…
How to Grow A Mega Successful Amazon Business From Scratch Selling Simple, Low-Competition, High Profit Margin Physical Products
2. Free Training Webinar – " Advanced Strategies "
How to Grow A Mega Successful Amazon Business From Scratch Selling Simple, Low-Competition, High Profit Margin Physical Products