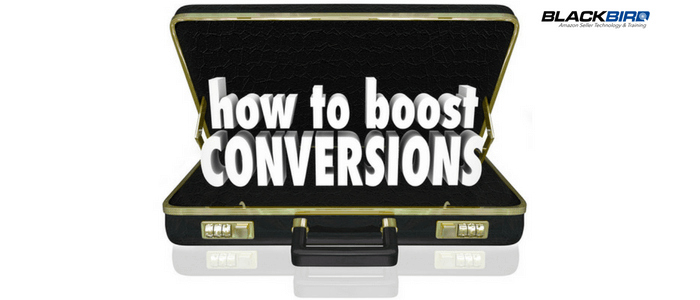 Many sellers on Amazon neglect to design images as they underestimate the effect they have on their conversion rate.
In this article, we'll show you exactly how to create killer images, and how to digitally enhance them.
What Are Amazon's Image Requirements?
The very first thing that you should do is head over to Amazon and check out their Product Image Requirements.
Here's a rundown of their requirements:
Upload the maximum size possible, with a minimum of 1000 x 1000 to enable zooming
Use tiff, jpeg, gif or png
Your main image must not have any text and must have a white background
Subsequent images can have feature text, props, and different backgrounds
We recommend sticking with a white background for uniformity across your images
Tight cropping makes a BIG difference, remember when you are looking at a search page as a customer, if your product image is really small, you're doing yourself a major disservice because you're not using all the space you've got available
Upload as many photo's as you can
Why Images Are Absolutely Critical
Images can make or break your product success unlike any other factor.
This is the most important conversion influencing factor on your page period because when people are browsing through the search results, the main thing they are looking at is the images and if you've got a great product, people will click on it and you'll get more visitors and sales.
If your images are not good it's going to repel prospects and really hurt your conversion rate.
Types of Amazon Photos
Let's take a look at the different types of photos…
Amateur Photos
Amateur photos may be given to you by your manufacturer or maybe you've taken them on your iPhone.
We'd give these a 5/10 rating… If you're using these, you're leaving money on the table, these will get the job done, but not much more.
It's likely 80% of your competitors will have this grade of photos which is good news for you because it gives you a way in which you can differentiate yourself and position yourself as being much better.
Situational & "in-use" photos
Often these photos have a person in shot, which you can see from the image below:
Bear in mind you can't use these types of image as the main image because the main image should just be a product on a white background. However, you can use these in your other images.
These types of photos can be very powerful when done right.
Renders
Renders are not actually photos, but a graphic representation as shown in the image below:
Sometimes these images can actually look better than photos, although bear in mind when zooming in, things can look at bit distorted if you're not careful.
Photos with text or icons
A lot of sellers like to use '100% satisfaction guarantee' badges which do work well for some types of products.
If you're using text on the photos then you can incorporate your key features and highlight them, and you can have zoomed in areas.
Advanced Image Editing
We're going to look at some advanced image editing techniques which work amazingly well to boost conversion rates.
To begin with, you need to ensure you start with good photos, ideally by a professional photographer as it really does make a big difference.
If you're wondering where you can get these done, you can just go into your local photographer and ask them to take some professional photos for you. They might charge $10 or $20 per photo but it will pay off a hundred times over.
Here we've got a photo which has been taken of a certain product:
Before:
After:
So what we've done here is enhanced the image, we've zoomed in on certain features, we've cropped tight right around the edge, and we've also got a couple of bullet points in there.
This is an example of how you can edit an image.
Here is another image of a before and after, this one is to emphasise the cropping.
In the before image you can see a lot of white space on the edge of the product.
On the after photo you can see you've only got a few pixels there so it will appear much bigger on the Amazon thumbnails.
Also the colors have been enhanced slightly to look more realistic of what the product looks like.
In the next enhanced example, you can see the main features have been magnified:
We've got just a stock standard photo with quite a lot of white space on the edge, what we've done is eliminated the white space, zoomed in on certain items, adding a little shadow behind them and some text.
Therefore we've magnified the main features and made it look a lot better.
Our Thoughts
In this article we've shown you exactly how to create killer product page images.
We've shown you a few examples of the types of things you can do with your images. It's worth spending some time thinking about your images and spending some money on getting really premium images.
Many sellers on Amazon neglect to design images as they underestimate the effect they have on their conversion rate, so by following the advice in this article, make sure you don't!
BlackBird = Our SECRET Weapon
BlackBird is the ultimate tool for tracking your key metrics, and providing you with cutting edge Amazon seller training.
BlackBird gives you the ability to easily:
Track your products, sales, reviews, pricing, and ranking
Search the Amazon marketplace for the best new opportunities
Analyze monthly earning of ANY product on Amazon
Spy on your competition
Analyze on-page performance metrics
Alert you to problems related to your products
Send emails to your customers (to generates reviews and more sales)
Learn ALL the secrets to selling on Amazon (via 71 training videos)
To ask Steve, me, Matt Carter (partner), and our team of 'Gurus' ANY Amazon selling related question ANY TIME you want to using our unique 'Grab A Guru' strategic support system
If you want to learn more about how Blackbird can help you be sure to register for our FREE Training Webinars below: If you are serious about progressing an FBA Business then these are a must attend!
1. FREE Training Webinar for "Newbies " Reveals…
How to Grow A Mega Successful Amazon Business From Scratch Selling Simple, Low-Competition, High Profit Margin Physical Products
2. Free Training Webinar – " Advanced Strategies "
How to Grow A Mega Successful Amazon Business From Scratch Selling Simple, Low-Competition, High Profit Margin Physical Products