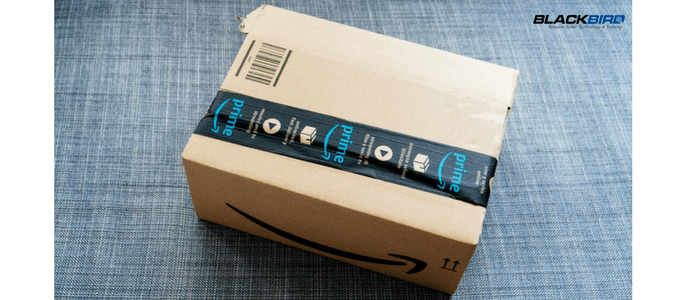 In this article, we're going to look at why Amazon Prime Membership is booming and the reasons why…
We'll explain exactly what Amazon Prime is, the costs, how to sign up, and much more…
What Is Amazon Prime?
For those who don't know, Amazon Prime is a paid monthly subscription service which offers many benefits to it's subscribers, let's have a look at some of the benefits here…
Free two day delivery
Streaming video
Streaming music
Streaming TV
Unlimited reading
And much more…
Let's have a further look into the benefits of Amazon Prime and what it has to offer…
Free two day delivery
You can literally get your product in two days or less!
With over 100 million items to choose from, you can ensure super fast delivery if you're an Amazon Prime member.
Streaming video
The Amazon Prime subscription gives you thousands of videos to download.
Streaming music
Amazon Prime offers an ever-growing selection of music of over 2 million songs, free to members.
Streaming TV
As with the streaming video, Amazon Prime offers thousands of TV shows that you can stream and watch anytime you like.
Unlimited Reading
There are literally thousands of books, magazines, and comics for you to enjoy.
You don't even need a Kindle, as you can read them on any device.
What Are The Costs of Joining Amazon Prime?
At the time of writing, Amazon Prime Membership offers three main different membership plans:
Prime Video
Prime Monthly
Prime Yearly
Let's look at what the different plans on offer:
Prime Video
Prime video is just that, you have access to download thousands of videos.
Cost: $8.99 per month
Prime Monthly
Prime monthly offers a lot more benefits to its subscribers such as:
Prime Video (as per the $8.99 per month package above)
FREE two-day shipping
Unlimited music streaming
Unlimited photo storage
Unlimited reading
FREE same-day delivery
Cost: $12.99 per month
Prime Yearly
Prime Yearly offers all the same benefits of Prime Monthly but at a much better price.
Costing $99 per year, you'll save yourself $56.88 if you opt for this subscription plan, meaning it's really a no-brainer!
The first 30 days of all Amazon Prime plans are free, and you can cancel your subscription at any time.
Prime Student
If you're a student, Amazon Prime offers you the additional benefit of a six month trial which includes free 2 day shipping on eligible purchases.
Following the 6 month trial period, Prime Student costs just $6.49 per month.
To find out more about 'Prime Student', click on 'Join Prime Student'.
You can find out more about Prime Student Deals here.
How Many Prime Members Are There?
Amazon has never revealed the official number of Prime members, but it is thought to be in excess of 100 million members globally.
A huge increase in numbers was reported in 2017 compared to previous years due to the amount of shipments processed.
Nothing less than 5 billion of items globally shipped with Prime in the year 2017, which includes two-day and one-day shipping, therefore expanding customer reach at the same time.
Which Countries Have Access to Amazon Prime?
More Countries have recently implemented Amazon Prime, let's have a look at a few of those here:
US
Canada
United Kingdom
Italy
Spain
Japan
Austria
France
Belgium
China
Germany
Mexico
Singapore
The Netherlands
Luxembourg
India
Interestingly, India became fastest-growing market of Amazon for Amazon Prime in 2017, this is as a result of its 5 times growth between the beginning of the year and October, as announced by Amazon early fall of last year.
Presently, the company revealed more Prime members joined in India compared to other countries in its first year.
What Is Amazon Prime Day?
Launched in 2015, Amazon Prime Day offers it's members some unbelievable deals and offers, even more so than the infamous 'Black Friday'!
As the name suggests Amazon Prime Day is only available to Prime members, which is another great benefit of signing up.
In 2017, tens of millions of shoppers purchased during the 30 hour event, a 50% increase from the previous year.
Although the date for Prime Day 2018 hasn't officially been released, it will no doubt be better and bigger than the years passed.
How Do I Sign Up For Amazon Prime?
To sign up for Amazon Prime, you can either sign up as a regular Amazon Prime Member, or as a Prime Student, check out the links below:
Further Reading
It's time to strike your first deal with your supplier, so in the following article 'Negotiating Deals With Your Supplier The Right Way!', we'll be teaching you exactly how to do that so you can get your first product into production.
Once you get to a point where you've found a supplier, you need to start negotiating, and there's some terminology you'll need to know.
Alibaba is the world's largest platform for finding suppliers. In the following article, 'How To Use Alibaba To Source Your Amazon FBA Products', you'll learn how to use Alibaba and filter for top quality reputable vendors.
Our Thoughts
In this article we've looked at what Amazon Prime is, the costs, how to sign up, and much more…
Amazon Prime members continue to make use of their digital benefits such as Prime Music, Prime Video, and Prime Reading way more than ever before.
In a nutshell, Amazon has an amazing ability to turn online shoppers into paying members, and this doesn't look like it will slow up anytime soon!
Want to Build a Business on Amazon Yourself ?
If you want to learn more about how to setup an Amazon business then be sure to register for our FREE Training Webinars below: ( If you are serious about progressing an FBA Business then these are a must attend! )
1. FREE Training Webinar for "Newbies " Reveals…
How to Grow A Mega Successful Amazon Business From Scratch Selling Simple, Low-Competition, High Profit Margin Physical Products
2. Free Training Webinar – " Advanced Strategies "
How to Take Your Existing Sales to the Next Level