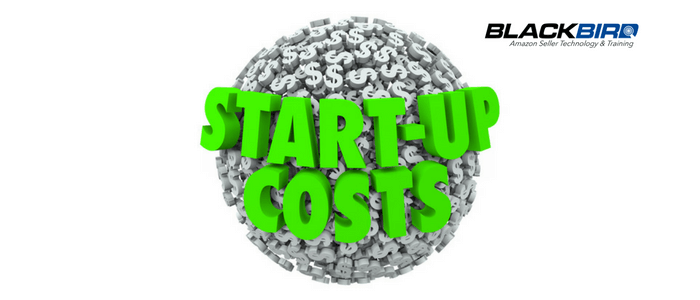 If someone was to ask us what is the most frequently asked question about our Amazon business, it would have to be "how much does it cost to start an Amazon business".
In this article, we're going to discover what are the absolute 'must haves', and also delve deeper into the optional items for those sellers that want to go that extra mile.
Bear in mind, costs will vary depending on how much money you have to invest in to your Amazon business, but don't worry you can start at a relatively low cost 🙂
How Much Money Do I Need To Start On Amazon?
To simplify things, we're going to break that down into the following 4 steps:
Must have items
Optional extras
Luxury items
Training
As with every business, you have to start somewhere, but the good news is, it's not going to cost you a fortune!
Let's look at those in more detail…
1. The Must Have Items For Starting Your Amazon Business
There will be certain items that you 'must have' before launching your Amazon business, let's have a look at them here…
Samples
Before ordering your inventory, you're going to want to ask your suppliers for some samples. Whilst these are generally free (depending on the supplier), bear in mind you will incurr some shipping costs.
(Cost: Free, but bear in mind shipping costs).
Inventory
It goes without saying, before you can start selling on Amazon, you're going to need to have to have some inventory in place.
Most suppliers will have a minimum order quantity (MOQ) which is going to vary from supplier to supplier, and of course how much you are willing to invest.
(Cost: $100+)
Amazon Professional Sellers Account
To sell on Amazon, you're going to need a Professional Sellers Account, at the time of writing, this costs $39.99 a month + additional selling fees.
There are three great things about selling on Amazon and signing up for an Amazon Professional Sellers account:
You can reach hundreds of millions of customers
They do all the heavy lifting
You can really put your products in the spotlight
(Cost: $39.99 per month plus selling fees)
A UPC Code
You need a UPC code for each product that you sell, so if you have ten products, you will need 10 UPC codes.
The goods news is UPC codes are really cheap, we recommend http://cheap-upc-barcode.com/
(Cost $1.99 per each UPC code)
Promotional Giveaway
Whilst not absolutely essential, you can hit the ground running with a promotional giveaway.
Again, the cost will vary depending on how much you want to giveway.
(Approximate Cost $25 – $50)
2. Optional Extras
The following are nice to have but completely optional:
Sponsored Ads Budget
When you start to build up momentum, you may want to consider using Amazon paid ads. We strategically use paid Amazon ads to catapult our products to the top of Amazon, establish top rankings, achieving an avalanche of organic sales in the process.
(Approximate Costs From $5 per day)
Registered Trademark
A trademark is the name of your brand, whilst it's not essential, it is a good idea to avoid somebody else from using the same name.
If you don't want to spend money on a trademark straight away, what we suggest you do is start selling your product and once you get traction with your first product and it starts making money, then go and trademark it.
(Approximate Cost: $300 – $500)
Software
Using software can give you an arsenal of applications and give you the edge over your competitors, whilst it's not essential to start with, if you really want to hit the ground running, this will certainly help.
(Approximate Cost $97+ per month)
3. Luxury Items
For those that have the luxury of deeper pockets, you may want to consider the following.
Bear in mind you do NOT need these to start your Amazon business.
Website
If you're selling on Amazon, it's also important to have a web presence of your own, even if you don't sell from it.
Shopify is an excellent platform, especially designed for ecommerce. It's great for taking non-Amazon sales, once you open your store, you can start taking sales straight out of the box.
(Cost: $29 per month for a Shopify subscription + $10 for a domain name)
WordPress is another great choice, it's very simple and flexible and free to use.
(Approximate Cost: $10 for a domain name plus approximately $5+ per month for hosting)
Logo
The logo is the most important part of your brand, so it's important to get right by making sure your logo is easily recognizable.
Let's look at where you can source your logo:
Fiverr
The Fiverr marketplace is a great choice if you're on a budget.
(Approximate Cost: $5 – $10)
99 Designs
99 Designs is a very popular choice, but more expensive as you are working with individual freelance designers.
(Approximate Cost $200)
Freelancer
Freelancer is an outsourcing portal where you could pay anything from $5 up to hundreds of dollars.
(Approximate Cost $5 – $500)
Product Photography
Good product photography is essential to your product listing, the key is to design images that boost conversions.
(Approximate Cost $100+)
4. Get The Right Training…
If you really want to build your Amazon business and learn from the best then training is absolutely vital.
Sure there's loads of YouTube videos available, but if you want to learn from the very best, check out our BlackBird University from BlackBird Suite.
BlackBird = Our SECRET Weapon
BlackBird is the ultimate tool for tracking your key metrics, and providing you with cutting edge Amazon seller training.
BlackBird gives you the ability to easily:
Track your products, sales, reviews, pricing, and ranking
Search the Amazon marketplace for the best new opportunities
Analyze monthly earning of ANY product on Amazon
Spy on your competition
Analyze on-page performance metrics
Alert you to problems related to your products
Send emails to your customers (to generates reviews and more sales)
Learn ALL the secrets to selling on Amazon (via 71 training videos)
To ask Steve, me, Matt Carter (partner), and our team of 'Gurus' ANY Amazon selling related question ANY TIME you want to using our unique 'Grab A Guru' strategic support system
If you want to learn more about how Blackbird can help you be sure to register for our FREE Training Webinars below: If you are serious about progressing an FBA Business then these are a must attend!
1. FREE Training Webinar for "Newbies " Reveals…
How to Grow A Mega Successful Amazon Business From Scratch Selling Simple, Low-Competition, High Profit Margin Physical Products
2. Free Training Webinar – " Advanced Strategies "
How to Grow A Mega Successful Amazon Business From Scratch Selling Simple, Low-Competition, High Profit Margin Physical Products